-----------------------------------------------------------------------------------------------------------------------------------

-----------------------------------------------------------------------------------------------------------------------------------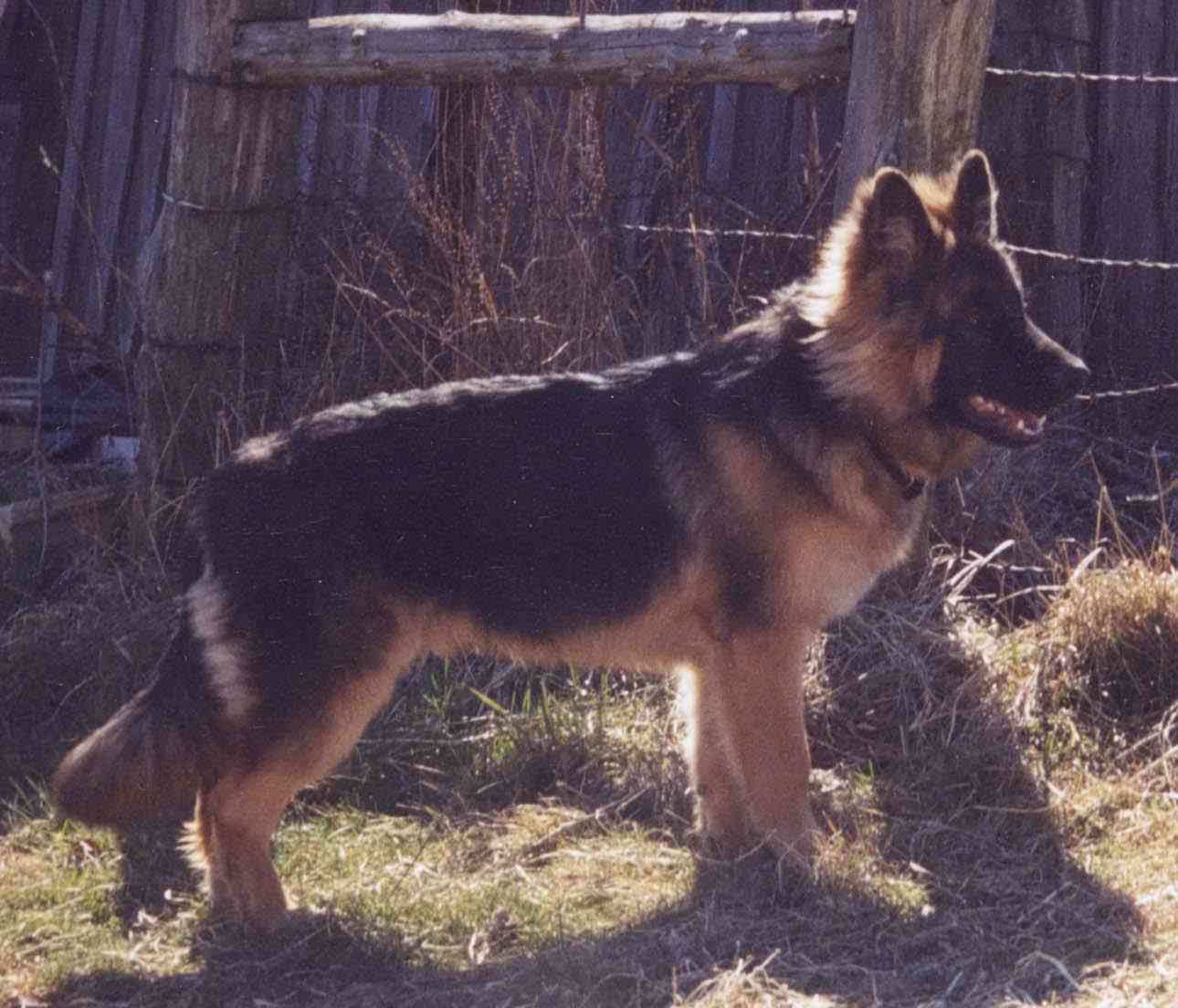 Ayer's Long Haired German Shepherds

Summer's Puppies from Past Litters

Summer has had long haired German Shepherd puppies and standard coat German Shepherd puppies as her first breeding was with a short coat.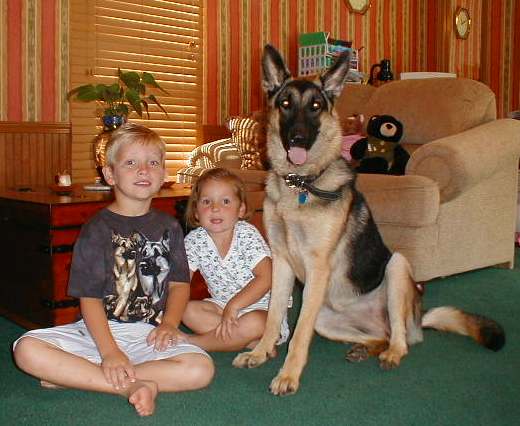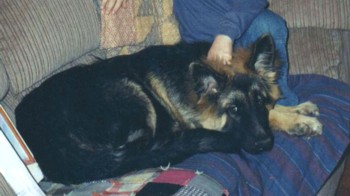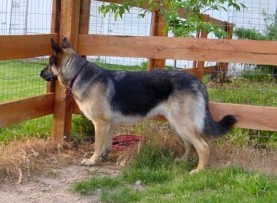 Miss Olivia at 6 months. TX.

Josey above at 5 months and 76 lbs. 96 lbs at 7 months. KY.

Happy Birthday Eva! at 1 year old. WV.









'Eva is doing great. Eva is really crazy about the kids. She lays on the front porch and watches them play in the front yard if they go around back she jumps up and follows them and stay right beside them. If they go around front of Mom's (road is in that direction) she usually barks once or twice and runs after them. She has even got in front of them and stood. I think she is trying to stop them from going out front...Well, I just wanted to let you know we are crazy about her. We love her just like a member of the family. Thanks alot for such a great puppy. VanDale' 'She is beautiful and big, and still as gentile as ever. Really a great dog.George'

VERY MUCH THANKS to ALL of our puppy owners for providing such loving homes for our puppies!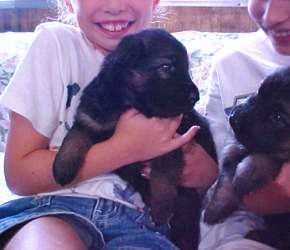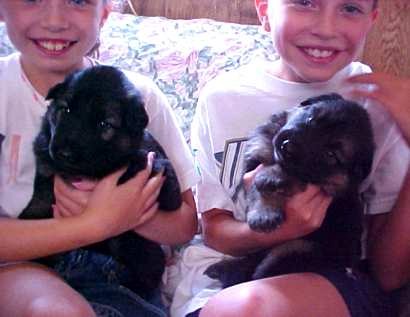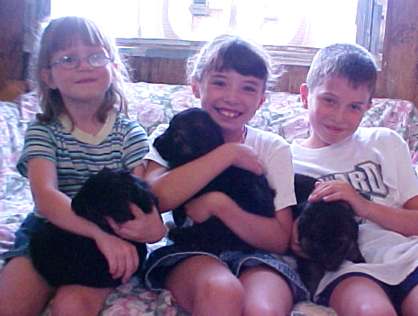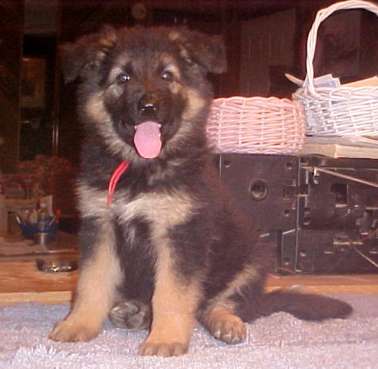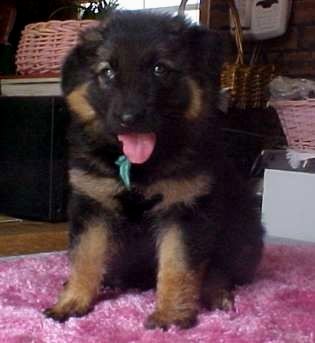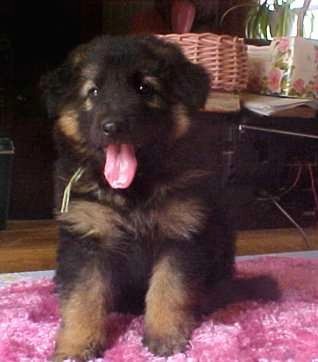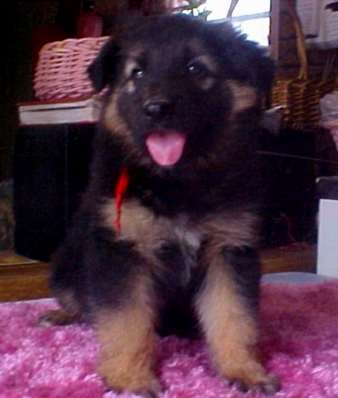 Some of the girls at 6 weeks.

Thunder at 9 months and 95 lbs.
"He is so adorable. All yours dogs yesterday were great, to have so many all together and everyone so friendly. I could see that Thunder will also be as friendly as them. Thanks so much again. Rosanne" 'People do not realize how
gentle he is, they look at his size and get scared. He is a wonderful pup and thanks so very much. Rosanne'





NEW! Sweetie at 10 months. KY. What a COOL eye marking Sweetie girl!!!!!

"By the way, the vet thought your contract was very well written and commented that he hadn't seen a better one. He thought you covered everything very well. Thought you'd like to know. We are all having great fun with Saber and he seems right at home now. Bob"

Dog breeders of AKC long haired German Shepherd Puppies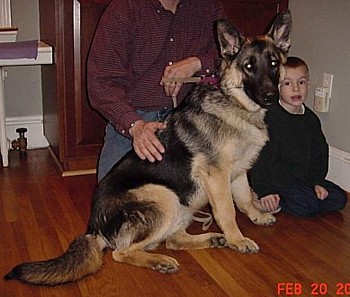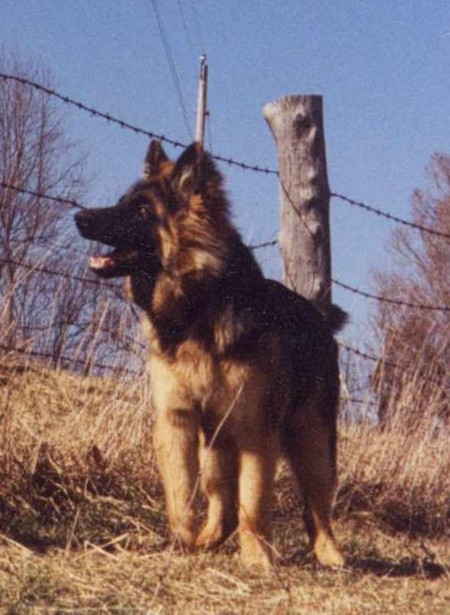 Josey 5 months above and 4 months below.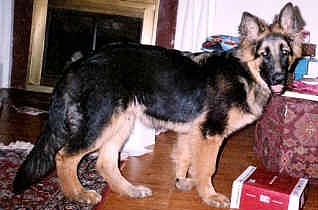 This page was last updated on: July 19, 2010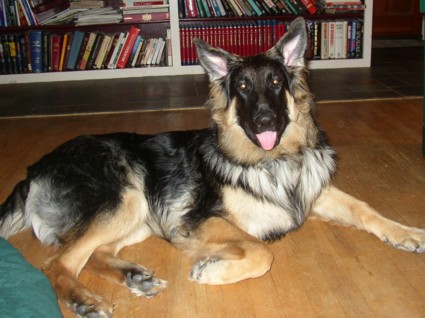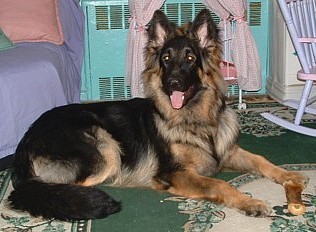 Thunder at 1 1/2 -looking JUST like his momma! NY.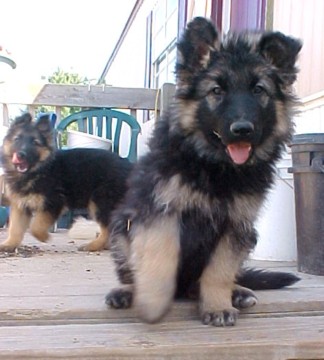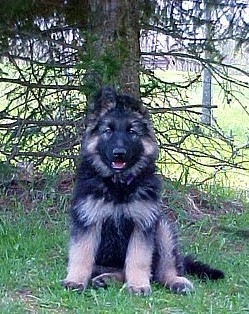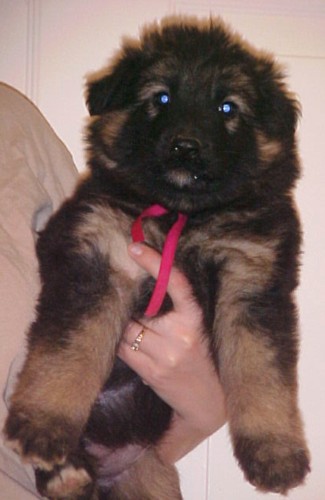 Most recent litter at bottom.

Summie/Dallas longhaired german shepherd puppies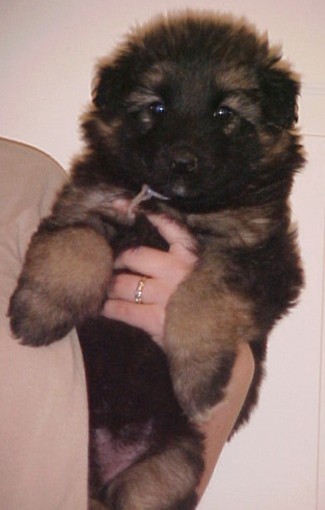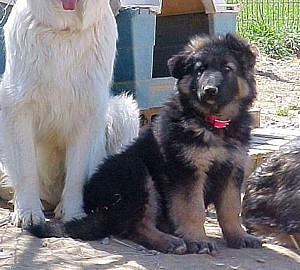 Zora-Summie pup- and Thunder- some Kiesthaus lines. Both at 4 months old.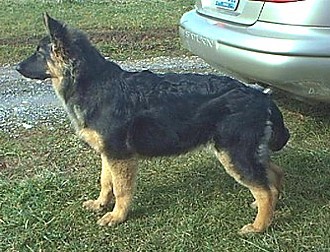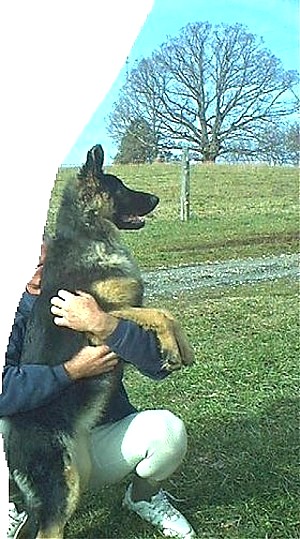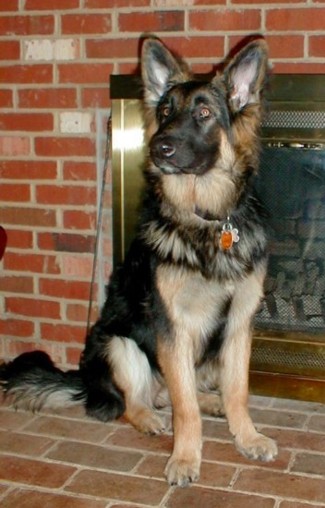 MAX(girl) at 7 months old.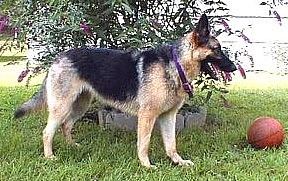 Eva now at 1 1/2years old.

Cassie "She's very playful and lovable. When we picked her up you told us your dogs were "Velcro" dogs. We are certainly learning that that is true.
Cassie is almost glued to either Rick or myself most of the time... You must be doing something very right in your breeding, if Cassie is any indication. She is truly a wonderful animal....I really do appreciate your advise. Your dogs are so well behaved you obviously must be doing something right. I did immediately begin doing as you suggested and the mouthing is dramatically decreasing. Norrine"

This family got Autumn and Sweetie from us after taking Josey home as well. >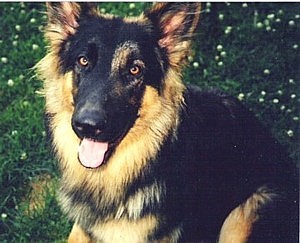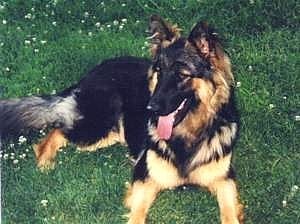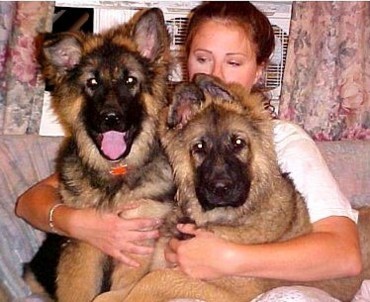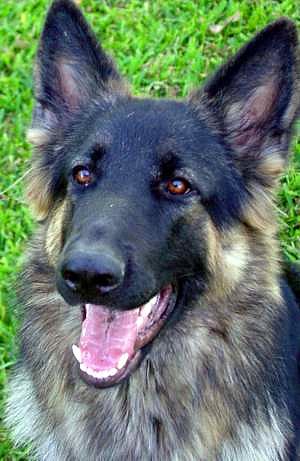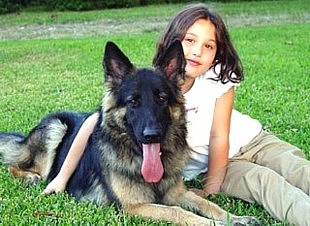 Katie- looks just like Mommy!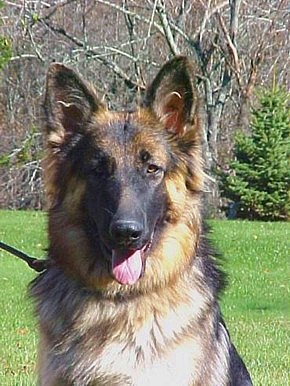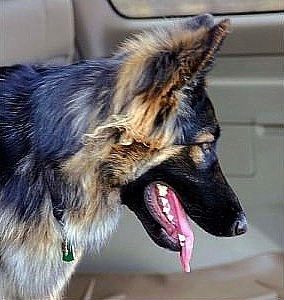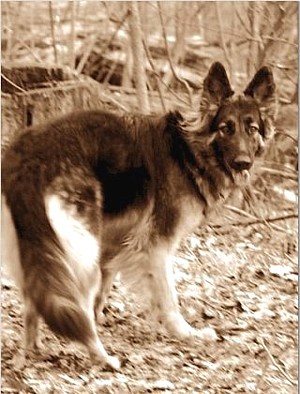 Max (girl) at 1 1/2 years. VA.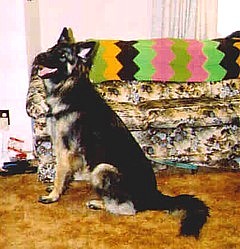 Greta lives in WV. - at 1 year.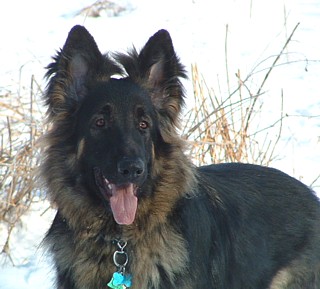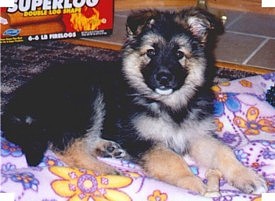 Tory 1 year and a few months. WI.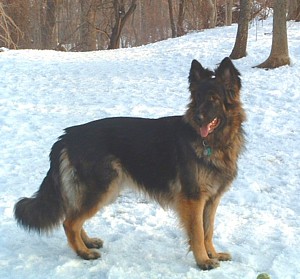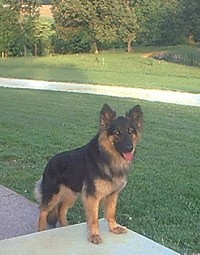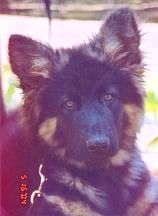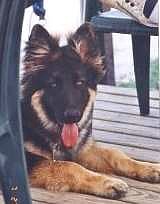 Nikki Boy. 3 mo. and 4 mo. NY. At 7 months-BELOW -'Nikki loves the water, my sister takes him to the beach all the time. She even has a friend with a stone pool they go to as well. He even jumps off the diving board!...
Carol Ann'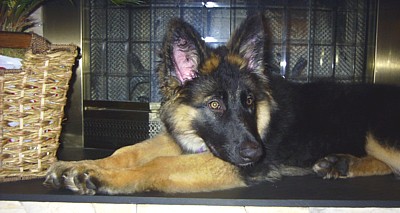 ----------------------------------------------------------------------------------------------------------------------------------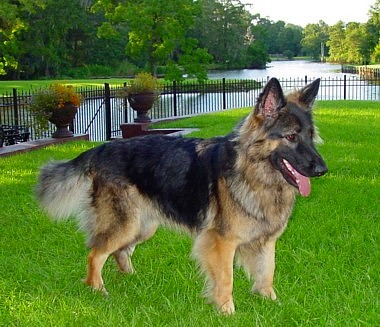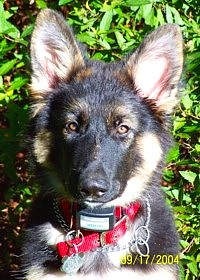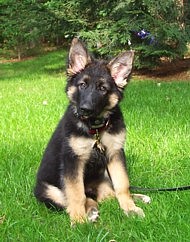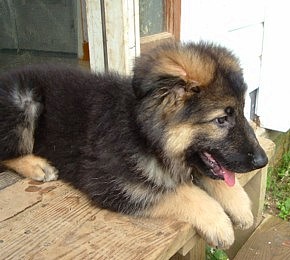 'We continue to be amazed by her even temperment and sweet personality'.'She continues to become part of our family and, at nine months, she has really settled into a well mannered, listening (most of the time) obedient animal. She loves the outdoors and the wilds and had a recent adventure with an angry hissing, wing batting swan that ended with the swan out swimming her. She loves people and is gentle with the smaller children in our neighborhood. We get her out most weekends for romps in the country and she has settled into a good routine during the work week. We could not be happier with her. Bob and Donna'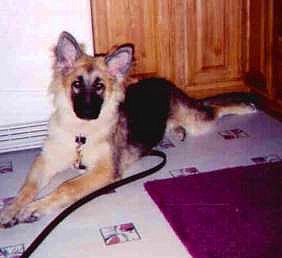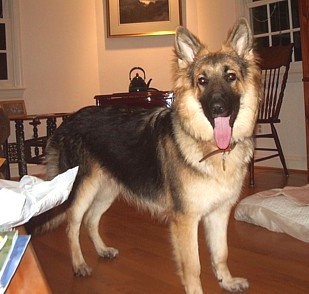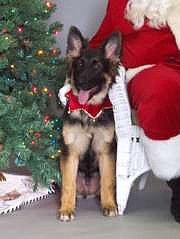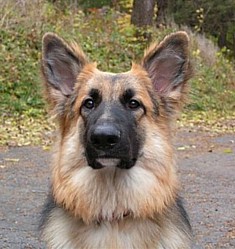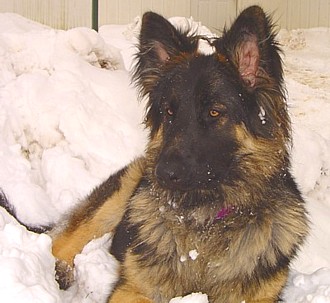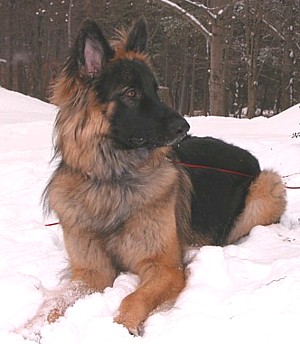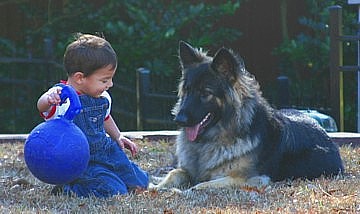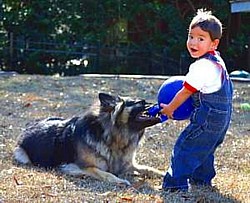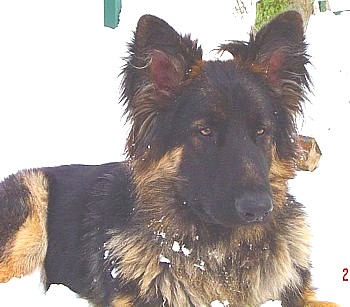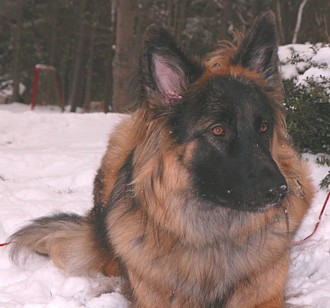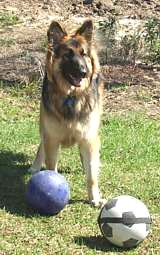 Tallie at 9 months old. MD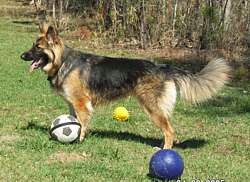 Sum/Mik: L2, Need: Jenna VA, Shiloh TN, Blossom WV.

Look at same look in his eyes! :-) above and below.

Zora at 2 years 98 lbs. Looking just like her daddy Dallas!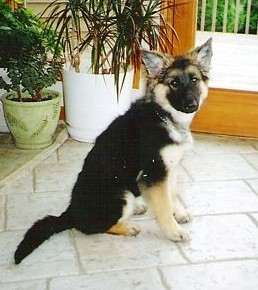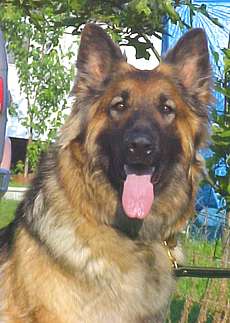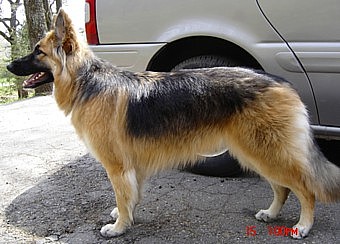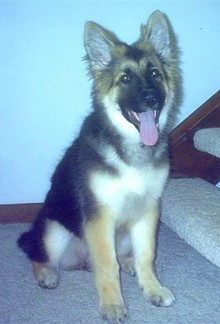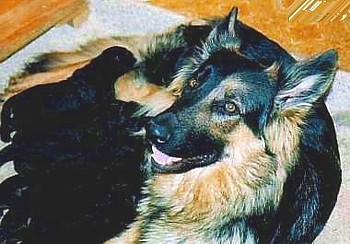 The girl with the Golden
Ring!
Sweetie at 2.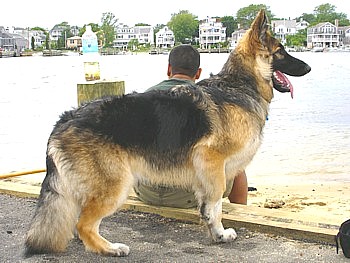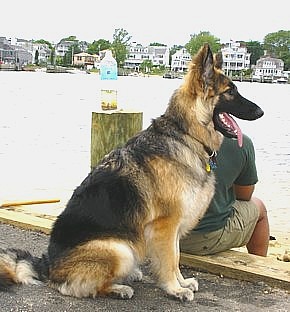 Miss Lucy on vacation in Marthas Vineyard, MA. MD.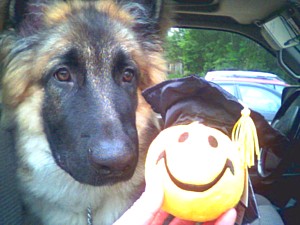 Congrats River! River graduating obedience at 4 1/2 months old. Rhode Island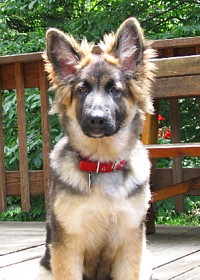 Shatzie 4 months old. PA.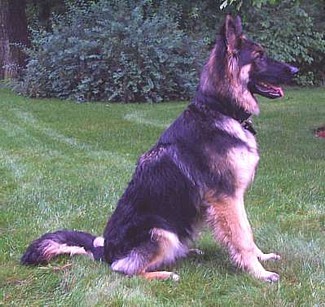 -----------------------------------------------------------------------------------------------------------------------------------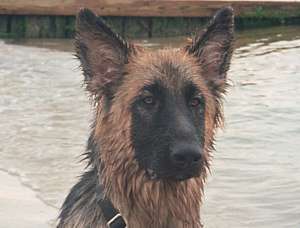 Titan 6 months old. 75 pounds at 6 months old. NJ.


TITAN At only almost 6 months old!!!... Handled by his 16 year old owner Megan (and owned w/ her mom) in 4-H Show... "He got a excellent in grooming; he got a score of 195 out of 200 in rally (a timed Obediance course) and in obediance Pre-Novice A (an obediance class that is two classes above were he should have been shown. He should have been in Beginner A because it was his first show but this show didnt offer Beginner A or the class above it -Beginner B -so he was put in the lowest class pre-novice class avalible --way above his obedince training level-- AND he got a 142 out of 160 which is a qualifying score he did very very well!! He still did awesome! He got a qualifying score against a tough judge!
Megan"
What a WONDERFUlL job you are doing Megan!!!! Megan is finishing up sponsoring- her 2nd! Seeing Eye dog too! Good job too Mom! :-)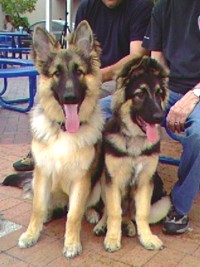 Zed, Zora/Mikki and Dakota, Stormy/Bear boys. FL.
6 months and 4 months old.